Coding bootcamps are short-term career education programs designed to help you land a job in tech. These programs became popular due to high demand for tech workers. Bootcamps now have nearly a decade of success behind them, which proves the effectiveness of the model. Here's everything you need to know about these new career training programs.
Overview
Overview
Coding bootcamps are an invention of the 21st century. These education programs are designed specifically with career and job placement in mind. Students spend less than a year studying technical skills to prepare for the job search.
Coding bootcamps are available for software engineering, web development, cybersecurity, UX/UI design, data science, and more. The bootcamp education model is also used by non-coding schools. These programs focus on tech sales, product management, and similar fields.
Here on Computer Science Hero, we'll cover the essential facts about coding bootcamps. If you're considering a tech job but don't want to go to college for it, consider a coding bootcamp instead.
Here are a few key facts about coding bootcamps and the bootcamp education model.
What is a Coding Bootcamp?
A coding bootcamp is an intensive and highly-focused career education program designed to help students prepare to find a job in tech. Coding bootcamps take individuals with little to no programming skills and help them become competitive in the workforce.
Coding Bootcamp Benefits
Coding bootcamps, when compared to colleges, have several notable benefits. First and foremost, bootcamps cost significantly less than most degree programs. If finding a high paying job is your primary goal, it's the most economical tech education system around. Bootcamps are flexible and independent, which allows them to adapt to changes in the tech industry. As a result, a bootcamp education can be far more up-to-date, as information you learned early in a degree program could already be obsolete by the time you graduate. Also, coding bootcamps don't require the time commitment that other job training programs do. Most bootcamp students start, finish, and enter the workforce in less than a year, which is a difficult statistic to beat.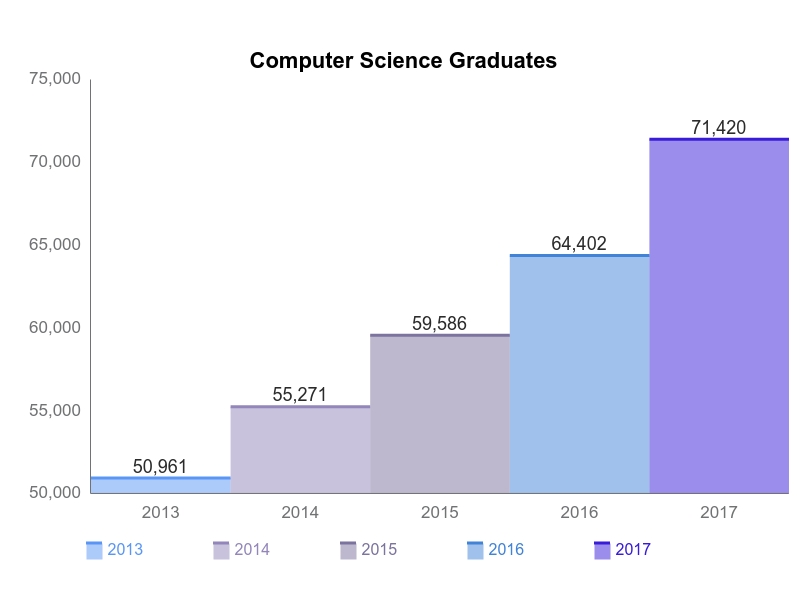 Why Choose a Technology Career?
A career in technology is an excellent choice, especially in the 2020s. The industry continues to enjoy astounding growth, and its products now play a part in virtually every other major industry in America. If you're looking for a career for the future, look no further than technology and computer science career paths. 
Are Coding Bootcamps Accredited?
In most cases, coding bootcamps are not accredited. However, this fact isn't an issue, because accreditation isn't designed for programs like bootcamps. When considering accreditation, remember that coding bootcamps are not colleges, and don't claim to be equivalent to a college education. The goal behind the bootcamp model is completely different; bootcamps are designed to equip students with technical skills that are in-demand in a booming industry. Bootcamps aren't accredited because accreditation would be irrelevant. Instead, bootcamps focus on job placement and student success. 
Coding Bootcamp Job Placement
Job placement is an integral part of the bootcamp model, and students spend a notable amount of the course preparing for employment. This includes interview practice and portfolio building. Some bootcamps offer job guarantees, and many more publish job placement statistics. Students enjoy job placement rates in excess of 90% at some bootcamps. 
Coding Bootcamp Admissions Admissions
Coding bootcamps can be selective about who they admit into their programs. Some bootcamps are known to be more selective than others, but the general admissions process is similar across the board. Overall, few bootcamps have extensive prerequisite requirements. Instead, they evaluate students based on motivation, goals, and how likely they believe you are to succeed in the program. Rejection from one bootcamp also doesn't mean you won't be quickly accepted into another. Each school is free to set its own admission requirements. 
Bootcamps conduct admissions interviews after students submit their applications. The content of these interviews varies between schools, but they serve a very specific goal: to evaluate you, your goals, and to determine if you'll take the program seriously. If you make it through the first interview, some schools let you enroll right away. However, more selective schools provide a series of basic coding challenges to see if you're able to pick up the material on your own. These challenges are more than doable for most students with a little studying beforehand. 
The technical examination often takes place during the second phase of the interview process. Bootcamps will often give students an opportunity to study, and may provide some material to go over before returning for the challenge. The purpose of the coding challenge (or technical examination) is to evaluate your ability to learn technical concepts, syntax, and other skills that you'll use heavily during the program.
Coding Bootcamp Curriculum Curriculum
Coding bootcamp curriculum varies between schools. Each bootcamp is free to examine the market, talk with alumni, and determine which subjects will provide the most benefit to students. That said, bootcamps often include the same core concepts regardless of the specific course. After core concepts and best practices, each bootcamp subject will have a vastly different curriculum. Some courses, such as web development and software engineering, will likely touch on the same subjects. Fields like data science are vastly different from development, so the curriculum will deviate substantially. Here are the core concepts covered by the majority of coding bootcamps.
Coding bootcamps are, after all, primarily focused on teaching students to code. Bootcamps cover an enormous amount of coding and programming curriculum in a short time, which is why they're called bootcamps. Students will need to maintain focus throughout the program to keep up, as missing a day or two could set them back significantly. 
Coding bootcamps primarily focus on coding, but they also emphasize other necessary skills for job placement and career success. These skills include coding and field-specific best practices, which keep students efficient, accountable, and streamlines the programming process.
Bootcamps are specifically designed as highly-effective and rapid career placement programs, so job preparation is a major part of the curriculum. Coding schools often integrate job placement activities (such as portfolio projects and interview preparation) into the course early on, giving students a solid foundation from which to start a career. 
What does Coding Bootcamp Cost? Cost
Coding bootcamps are an economical way to get a high quality education. These programs offer multiple ways to pay, including upfront tuition payment, student loan-type programs, and income-deferment plans called income share agreements. Here's a rundown on how to pay for a coding bootcamp. 
On average, coding bootcamp tuition for full-time and full-length programs costs $13,500. Prices vary across the board, with some programs costing less than $10,000 or more than $20,000. Keep in mind, bootcamp tuition cost is a one-time payment, and numerous discounts, deferments, and financing plans are available.
Income share agreements are tuition deferment plans designed to incentivise bootcamps to provide up-to-date curriculum and prepare students for a job. When students sign up, they get to defer tuition payments while attending the course, and after graduation until they land a job and earn above a certain threshold. Once students find a job in the field, they agree to pay a small fixed percentage of their income for a short time, often three years or less. If students can't find a job after completing the program, most schools forgive tuition costs.
There are dozens of coding bootcamp scholarships available to people of all backgrounds. Scholarship programs are available through third-party entities (such as nonprofit organizations and foundations) and through the schools themselves. Be sure to investigate scholarship options, as it can save you thousands.
Coding bootcamp students can apply for loans, which are similar to traditional student loans. Third-party lending organizations now offer loans to coding bootcamp students, and many choose this route due to simplicity and familiarity. The top lenders for coding bootcamps are Skills Fund and Climb Credit.
Online bootcamps are increasingly popular thanks to flexible scheduling and high-quality curriculum. Many major and well-established in-person bootcamps carefully designed online programs to provide the same level of quality, which vastly expanded the number of students who can attend. Today, bootcamps aren't reserved for residents of tech hubs like Silicon Valley and New York City. Nonetheless, individuals with job responsibilities, family commitments, and college students benefit greatly from online programs regardless of their local in-person course options. Generally speaking, online coding bootcamps cost the same as an equivalent in-person course, and most online schools feature live lessons and tutoring sessions with instructors.