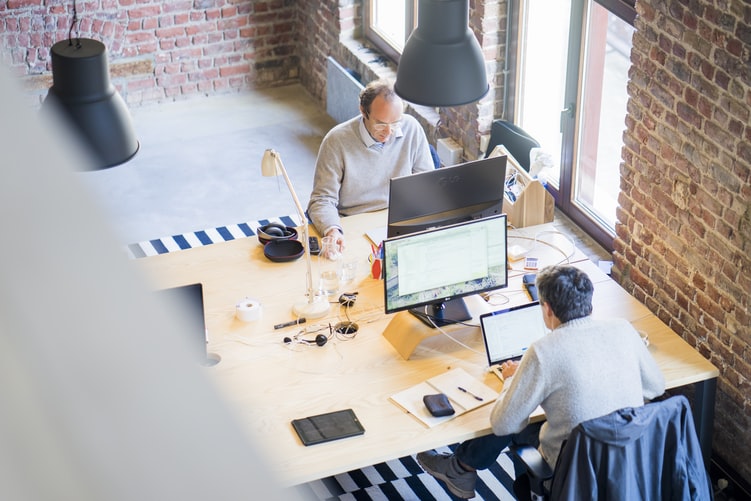 The 7 Best Tech Jobs in 2020


Today's tech industry is changing.


With the online world growing at a rapid pace, the demand for experienced and knowledgeable employees in tech is high. With more opportunities than ever, it's a great time to explore your next step in a career in tech.


While the possibilities are endless, to help you get started we've gathered a list of the top seven tech jobs for today and into 2020, as well as key things you should watch for in choosing your career path.


What to Look for In a Tech Career


Whether you're currently employed and looking for a new opportunity or searching for your first tech-related job, here are some key things you'll want to keep in mind as you browse the best tech jobs for the future.


Salary
While money certainly isn't everything in a job, you still want to ensure the field you enter can help you fulfill you and your family's needs. Luckily, many jobs in the technology industry are highly competitive and compensate you well for your work.


Growth
Wherever you're at in life, you'll want to ensure that you will have job security for years to come. In the current booming tech industry, there seems to be little worry about growing tech careers. Beyond the position you're considering, keep in mind other career advancement opportunities that you may want to explore in the future as well.


Location
Like many other industries, the tech job market offers some great ways to work remotely or with a more flexible schedule. If that's something important to you, be sure to search out opportunities that meet that criteria.


Education
To thrive in a career it helps to have the experience and credentials to be successful. Some jobs may have specific education or training requirements. But whether you've been in tech for years or are just starting out, there are always ways to advance your knowledge and skills, aside from a formal associate or bachelor's degree. Keep that education requirement in mind but realize there may be other ways to gain the same experience.


Searching for a tech job in 2020 can open up so many doors to pursue what you love. Factors like these can help you move forward with confidence as you search and land your next opportunity.


7 Best Tech Jobs in 2020




Keeping those factors in mind, let's move forward by exploring the career path that works best for you. We consulted resources like the Bureau of Labor Statistics, ZipRecruiter, PayScale, and Glassdoor to share some great opportunities that might be right for you.


1. Artificial Intelligence / Machine Learning Engineer
Jump into a career with elevated growth opportunities as an Artificial Intelligence or Machine Learning engineer. With the ability to transfer AI skills to a variety of industries and areas, this role is in high demand. Teaching machines to accomplish tasks from basic to advanced can be exciting for those that enjoy problem solving. With AI playing a huge role in just about anything from ecommerce to the media industry, there's no wonder why AI engineers are among the highest paid.


Artificial Intelligence or Machine Learning Engineers are well compensated, with an average base salary of $146,000 and a growth potential of 344%, according to Indeed.com.


2. Data Scientist
Within a business, particularly large ones, there's a lot of data to go through. Data scientists engage in the important work of organizing and making sense of incoming data to present to stakeholders as they make informed decisions.


Data brought in through people's interactions with an app, website, or another type of content helps generate insight that can communicate something of value for the type of product or service an organization offers. Data scientists need to use problem solving to create better organizational outcomes.


Data Scientists can look forward to an average base salary of $131,000, and the field showed a high growth from 2015-2018 of 78%, according to Indeed.com.


3. Information Security Analyst
With the expansion of online platforms, data and information security are more important today than ever. Many organizations keep all their important information and client data online. Preserving the confidentiality of data and client information is of the utmost priority for many companies.


The information security analyst works to protect those vital resources from cybercrime and other threats. These analysts review systems and look for gaps in user data protection. Being successful in this role brings peace of mind and security to the organization and its employees.


Information security analysts earn a median salary of about $98,000 and have a growth rate of 32%, according to the Bureau of Labor Statistics in 2018.


4. Software Engineer/Developer
As the tech world grows, so does opportunities for new applications, programs, and software to increase company efficiency and accomplish goals. Software engineers and developers are needed in just about every industry as software and systems are created and implemented.


According to the Bureau of Labor Statistics, software engineers and developers can look forward to a median salary of about $105,600 and a 21% growth in job outlook.


5. Computer Research Scientist
If you enjoy exploring new, innovative ideas in technology, a computer research scientist can be the perfect role for you. These forward-looking dreamers engage in the research and exploration of cutting edge technology. The characteristics required by this job field may include a high level of creativity and initiative.


The BLS notes these computer research scientists have a median salary of about $118,000 and a 16% growth rate.


6. IT Manager




An IT manager has the important role of leading and directing the IT team toward thriving success. They should balance technical knowledge with leadership skills while coordinating a team to accomplish goals and promote progress.


They often work with a team of analysts, researchers, engineers, administrators, and others. The IT manager works to align the experience and skills of the team to support new initiatives and keep the company running.


According to the BLS, IT Managers can be well compensated with a median salary of over $142,000 and a growth rate of 11%.


7. Database Administrator
Whether it's a Customer Relations Management system or other organizational software, the database administrator is responsible for managing the large amount of data that is received by a company. They work to ensure that the system is running smoothly and teams are able to access and analyze the information that they need, when they need it.


The database administrator also helps to back up and store information that's important for company operations. When historical information is required, the database administrator is ready to provide those resources for leadership to make decisions. Data security is a key responsibility for the administrator.


The BLS suggests a median salary of $90,000 and a growth rate of 9% for this versatile position.


Discover Your Next Job in 2020


Are you ready to make that career change in 2020? With these tech jobs, you can explore new opportunities and find the path that aligns with both your goals and skills. Many of these roles are highly versatile, empowering you to take your skills to the career and industry you aspire to follow.


Opportunities for a technology career are abundant. Whether you consider yourself entry-level or experienced, there's a next step for you. By factoring in industry growth and earning potential, you can make 2020 a great year for your career as you thrive in the tech industry.