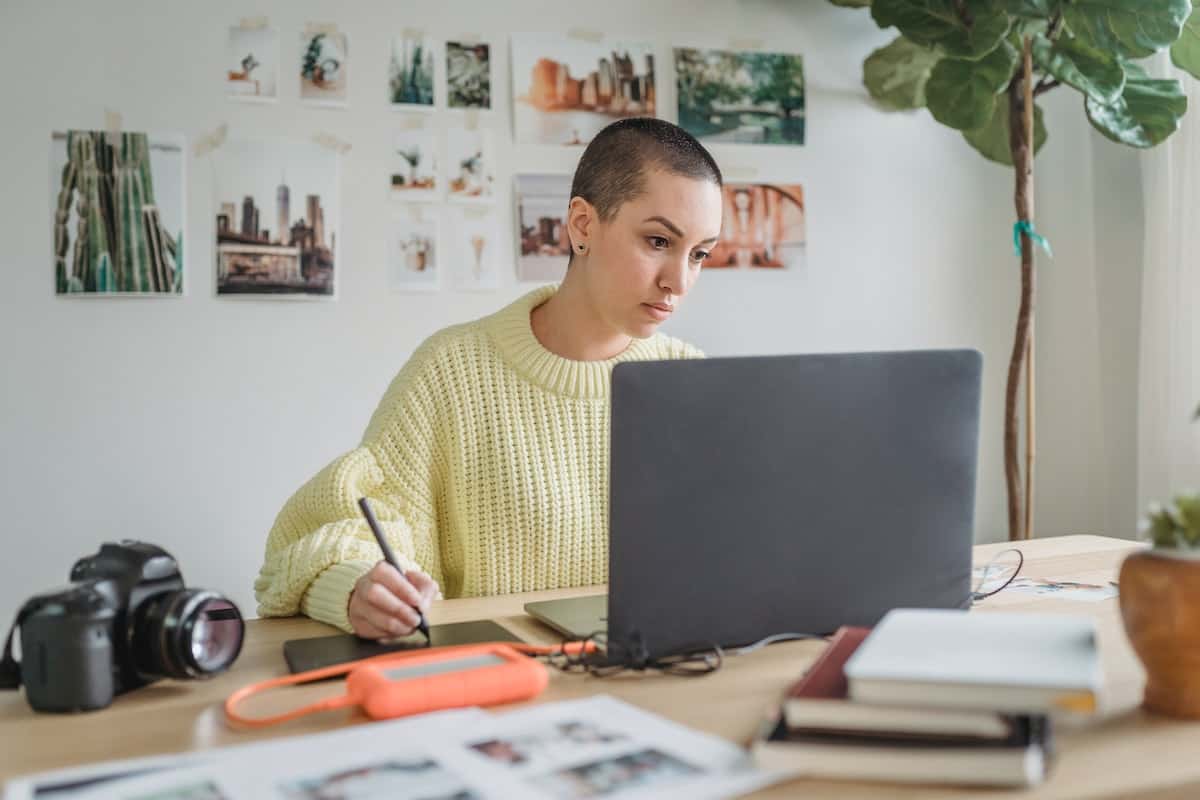 Top Tips to Create the Best Desk Setup for Digital Artists
Digital artists create brilliant sketches, videos, paintings, and other attractive digital illustrations on computer applications. Like most artists, digital graphic artists draw inspiration from their surroundings, and having a great desk setup is essential to boosting productivity. In this article, we discuss the best desk setup for digital artists working in graphic design or other digital arts.

The best digital desk setup for digital artists needs to help you get into your artistic flow. To create the best digital artist desk setup, you must consider space, location, light, technical accessories, and more. Our guide will give you a great place to start designing your own digital artist's workspace. Keep reading for tips on to create a great digital artist's workspace for yourself.

What Makes a Digital Artists Desk Setup Effective?
A good desk setup for digital artists should boost productivity and help them feel inspired. As a digital artist, you need a desk setup that helps you focus and motivates you to work. A digital artist can work in various roles, including as an illustrator, animator, graphic designer, or digital painter, and their desk setup should be conducive to their work. Below are some factors that can make a digital artist's desk setup effective.
Quiet Space
The best desk setup for digital artists requires a dedicated space where they can focus and be less likely to fall into a creative lull. Look for an area where you are unlikely to be bothered by noise or other distractions when working on complex designs. If this isn't a possibility, a popular method of dealing with noisy distractions is purchasing noise-canceling headphones.
Sufficient Natural Lighting
The lighting and color temperature settings of a room can have a great impact on your productivity. While setting up your workstation, it is important that you pick a place that has natural lighting. If you don't have easy access to daylight, you can choose blue-enriched light bulbs. A good lamp for artists can help graphic designers stay focused without having to strain their eyes.
Personalize Your Desk Setup
A desk for artists is meant to be a place where they'll spend a lot of their time. Personalizing your workspace by adding a splash of color can do wonders to inspire your next creative design. You can add pictures, plants, a painting by your favorite artist, or accessories that reflect your personal creative touch.
How to Create a Digital Artists Desk Setup: 5 Top Tips
Dedicate a Location For Your Workspace
To create an effective desk setup, you need to first choose a space. While picking a location in your home, look for one that will be comfortable enough for you to work long hours and have enough room for all of your equipment and for you to stretch in. If you can, get a corner desk and set it near a window where you can get some air as you look outside.
Set Your Table and Chair
A flexible standing desk with an ergonomic office chair is a popular option among digital artists such as graphic designers. This combination makes for a dependable office desk. Some desks can be turned into a drafting table, which you can easily use if creating non-digital art. Ergonomic chair options with an adjustable seat tilt and seat height are ideal for working long hours.
Use Ergonomic Desk Accessories
Other ergonomic accessories could include an under desk footrest, an extra pillow for back support or extra seat comfort, and an ergonomic keyboard and mouse. These ergonomic accessories let you work with fewer aches and pains. Ergonomic desk accessories are becoming more available within an affordable price range thanks to cutting-edge technology.
Add some mood boosters
Mood boosters can help you reduce work-related stress. Going green by getting some colorful indoor plants is a great way to add some positivity to your work desk. Additionally, you could add a speaker to listen to music or a dimmable LED desk lamp with programmable color temperature settings, or simply some photos or artwork you like.
Place a storage cabinet
If you are creating art digitally, you might need some extra storage space for your gadgets and printed digital illustrations. You can use a storage cabinet for this purpose, and even use it as a surface for your mood boosters to sit on. A storage cabinet is a must for your art studio.
5 Things You Should Invest in When Designing Your Digital Artists Workspace
An excellent desk setup for artists isn't just about a dedicated space. The right mix of technical and non-technical accessories will make your desk setup a happy place where you feel motivated and inspired to work. Below is a list of common technical and non-technical accessories digital artists should invest in while setting up their workspace.
Technical Items to Consider
Dual Screens. Most digital artists have to work with multiple programs at once and need to pay attention to every detail. A secondary screen can be extremely beneficial for any digital artist desk setup, especially those working with Adobe Illustrator, Photoshop, or Lightroom.
A drawing tablet. A drawing tablet, also known as a graphic tablet, has amazing features that allow digital artists to digitally recreate the experience of drawing on paper and pen. A digital sketch pad, tablet, or iPad with a high screen resolution would be ideal thanks to their world-class color performance and large touch screen display.
Touch Pencil. You will also need a stylus or a digital pen like the Apple Pencil to go along with your tablet or iPad. These can help you more accurately create digital art and give you the feeling of creating handmade drawings.
Wireless Keyboard and Mouse. If you are using an external monitor, you should invest in a wireless keyboard and mouse. Although touchpads are functional, wireless keyboards and mice are easier to use, more comfortable, and better for your hands and wrists, especially when working on complex designs for long hours.
USB Hub. A USB hub under your desk will help you keep your wires all in one place. This will help keep your desk looking organized and prevent any chaos or damage caused by tangled wires.
Non-Techincal Items to Consider
Adjustable Standing Desk. If you don't like sitting all day, getting an ergonomic or adjustable standing desk is a great option you can pick over a standard desk. You can easily adjust their height, letting you alternate between sitting and standing.
High-Speed Internet. A high-speed uninterrupted Wi-Fi or Internet connection is a must. Make sure to set up your Wi-Fi router in a central location with as few obstacles in its way as possible. This will make your Internet connection stable throughout your home.
Mug Warmer. A hot cup of coffee or tea can be a sweet treat when working for longer hours. A mug warmer will keep your beverage hot throughout the day and prevent you from needing to go to the kitchen because your tea or coffee went cold.
Dimmable LED Desk Lamp. If you enjoy or need to work at night, you should invest in a dimmable LED desk lamp. These lamps help prevent eye strain and often come with changeable color temperatures and a wireless charging pad.
Plants. Adding a small colorful plant to your desk can improve the air quality of your workspace, improve creativity, reduce stress, and boost your mood.
Creating the Best Digital Artists Workspace
The best desk setups for digital artists are personalized and help them thrive in their careers. A conducive workspace will help you generate new ideas and stay motivated. Whether you're an art student or working in a high-paying job as an artist, loving your workspace is vital. If you are pursuing an art career, a good desk can help.
Best Desk Setup for Digital Artists FAQ

What equipment do digital artists use in creating their artwork?

When creating artwork, digital artists use equipment such as graphics tablets, drawing tablets, pen tablets, or even Apple iPads. These gadgets offer a natural drawing experience even when creating digital artwork.



How do I set up an art studio?

You can set up a small art studio at your home by dedicating a room to your art. This room should be in a quiet location with plenty of space to keep your art organized. You can add a desk, a chair, and some of your existing art to the room to help you work. 



What is the most commonly used tool in digital art?

Adobe Photoshop is the most commonly used tool when creating digital art. Digital artists can use photoshop to sketch, draw, paint, design, or even create animations. Some other software that digital artists use includes Corel Painter, Rebelle, Art Weaver, and ArtRage. 



How do you learn digital art?

You learn digital art by learning to use a computer and creative software like Photoshop, Illustrator, or Lightroom. From there, the best way to learn is through practice. If you want to become a professional digital artist, an online course can help you develop your skills.