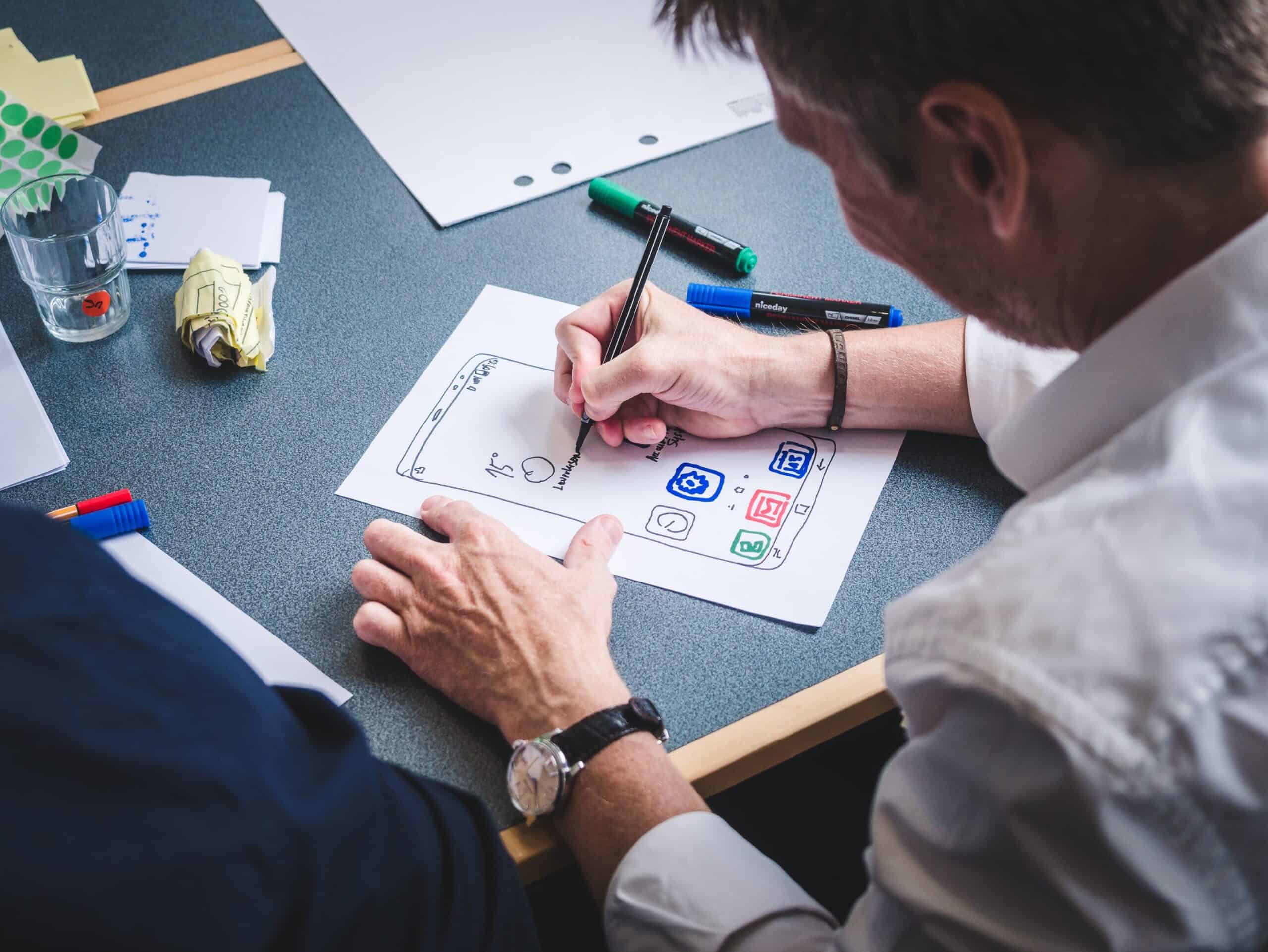 How to Become a UX Designer


The tech industry has a cornucopia of different positions to offer those who are either looking to make their big break or transition from another industry. It seems to have something that will suit the interests of just about everyone—one of the positions include UX designers. This job is continuously in demand in the tech industry and for a good reason. It is one of the more unique roles that combine the technical side of the industry with the personable side, as this position gets to work with both computers and people. With so many positions open in the industry, it's time to break down how to become a UX designer into four steps.


What Is a UX Designer?




If you are interested in becoming a UX designer and are reading this article, then you most likely understand what exactly it means to be one. However, just in case you happened to stumble upon this article and are now interested in how to become a UX designer, here is a little more information.


UX is short for "user experience." A UX designer essentially ensures all websites, software, and apps function perfectly for users. A UX designer is in charge of making sure the programs are easy to use and ensuring that users can perform all necessary tasks. Being a UX designer has a lot of responsibility and requires a lot of work. You will need a high amount of technical knowledge, coding experience, and background using computers.


Furthermore, you will need to have a good command of soft skills like communication, empathy, and problem-solving since you will be leading and working with a variety of different people. Additionally, a UX Designer is the person who integrates the interaction between a person and an app, so they will need to be experienced on the technical side of things.


Why Become a UX Designer?




Of course, many perks come along with being a UX designer. Some of those perks include job flexibility, a variety in your day to day roles, an extremely competitive salary, the ability to work creatively, and the opportunity to work with people every day. The last one is a unique perk as other roles mostly only require technical expertise. Therefore, the alluring appeal of this job not having to sit at a desk all day while simultaneously being in the middle of all the action. Human interaction is an essential part of this career, and getting out in the field is also required for the job.


What Steps Should I Take to Become a UX Designer?




Now that you have heard about what being a UX designer is all about, you hopefully have realized you are heading down the right career path. Don't worry, we will still help you to figure out how to go about it. Below are some tips on how to become a UX designer and the typical steps that are taken to become one.


1. Evaluate Your Goal
The first step is to make sure your goals and priorities are in line. You should ponder if this is the career route that you would like to take. Before you begin, make sure you ask yourself, "Is this career for me?". Push yourself to read and listen to content about UX designing for beginners to see if this is, in fact, a perfect career path for you. If you are ready to commit, then move on to the next step.


2. Pick an Educational Route
If you are a complete beginner, it's time to decide which educational route to take. You can either enroll in a bachelor's program in computer science or a related field. You can also decide to attend a UX design bootcamp. The good news is that there are no fixed educational requirements—such as a specific degree, license, or certification—to become a UX designer. Of course, having an educational background could help to improve your chances of landing a job in the industry.


A majority of people working in UX design have a bachelor's degree in a tech-related field that deals with apps or websites. Furthermore, pursuing some education will equip you with the fundamentals that will be useful in your career down the line. Remember, your training should focus on both areas of the job—software, and people. Some common degrees that cover both aspects are graphic design, visual design, computer science, and web programming.


3. Gain Experience
So, now you might find yourself fresh out of a coding bootcamp or a recent graduate. You have completed your bachelor's degree or received your certifications. What now? How do you gain experience? As you begin your job search, you will start to notice that most employers are looking for a UX designer with education and also prior experience.


One way to gain experience is to check locally if there are any social events related to tech and attend those events to begin creating a reliable network. That's where you can make connections with industry experts or those who share the same interests as you. If you're lucky enough, you might even find yourself a mentor.


If you have already completed an internship or are already in a tech-based job, begin incorporating UX design techniques that you have picked up. Start small; everyone has to start somewhere and begin to build your work portfolio. A well-organized collection of work will speak volumes in your next interview. Interviewers love to see real-world examples so this will increase your chances of getting hired.


4. Never Stop Learning
Even after you have gained some experience through a job or internship and have landed your first UX designer job, you still have some work to put in. As a UX designer, you need to stay up-to-date on any new software, technologies, or innovative devices. UX design is an evolving profession, which is a bonus if you love to learn.


You can start by reading articles or blogs published by experts in the field. Another great option is to take online courses every now and then. You can take these courses throughout your career to stay current and continuously improve your skills and knowledge. Not only will this boost your value as an employee, but it will show your employer that you are a passionate and determined staff.



Where Do I Start?




As you can see, the road to becoming a UX designer is not a short route. However, it is an enriching career path. First, decide what educational experience is right for you. Secondly, continue to fine-tune your skillsets and gain experience in the industry through internships, apprenticeships, or part-time jobs. Lastly, remember to continuously refresh your skills and stay up-to-date on any news related to the industry.